Meet the
Skyview Learning Academy Team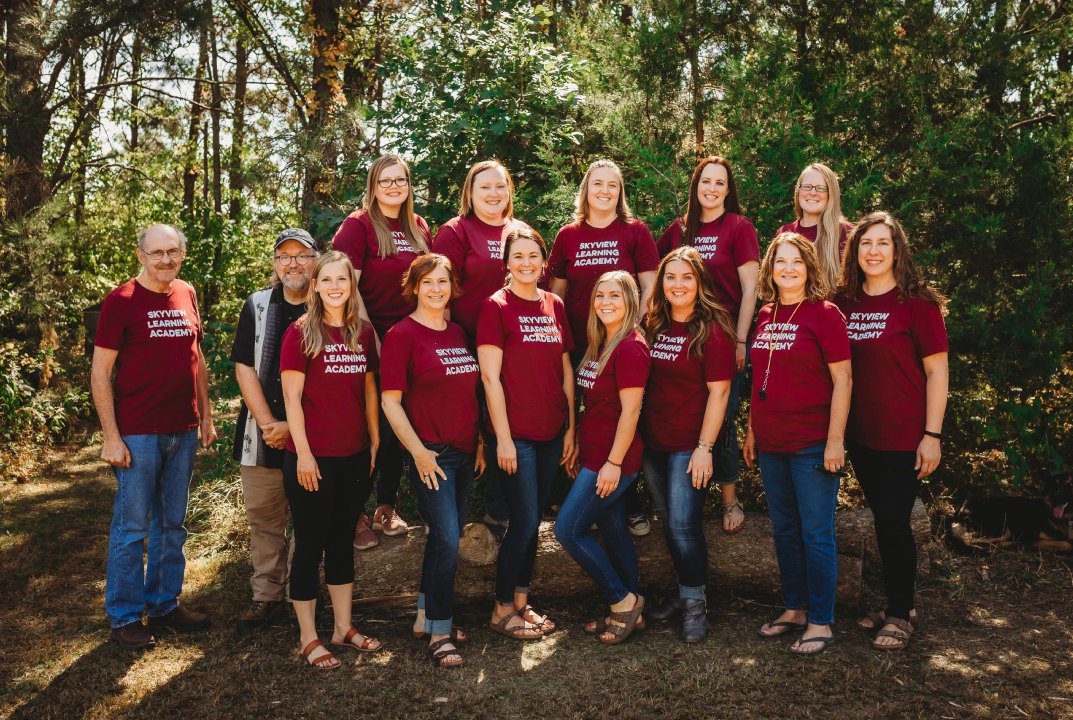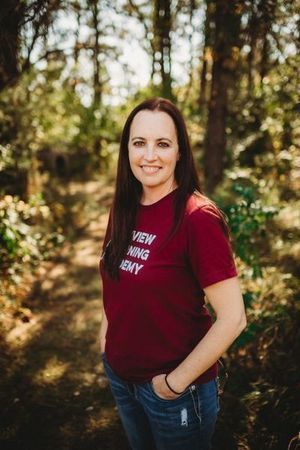 Director
Miss Michele founded the school in 2013 and has been running full steam ahead to keep up with the students ever since then! She and her husband Mick and their 3 kids, Sydney, Cameron, and Trystan, live on the same 20 acres that the school is located on. Miss Michele's dream was that her own kids could experience an education unlike they would find anywhere else, and she is confident that she is reaching that goal at Skyview. Her love of nature and her passion for Jesus shines through each and every day. When she needs a break from office work, she will often be found in her mud boots working in the chicken coop or out in the orchard.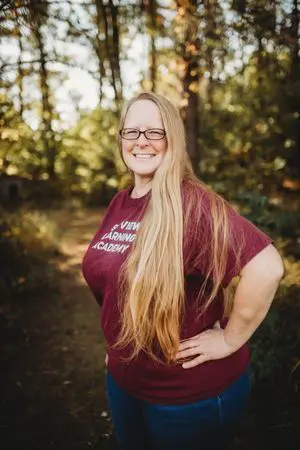 Miss Becca was born in New Orleans, Louisiana, and moved around a lot but spent most of her growing up years in Texas and Indiana. Becca attended Union College in Lincoln and received her B.S. in Child Development and Services. Miss Becca has taught preschool for 20 years and is looking to start working on her master's in the near future. When Becca is not teaching, she enjoys reading, singing, arts and crafts, doing taekwondo, archery, being involved in theater, and spending time with her family and her three boys.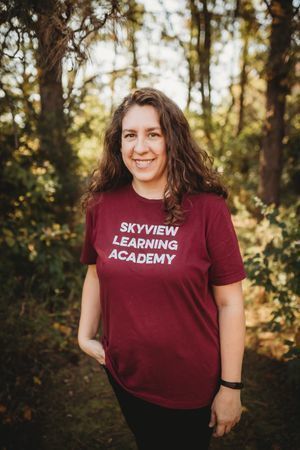 Rachel grew up in the foothills above the Sacramento Valley, located in Northern California. She attended a small school in the country and had fun climbing trees, building forts, biking, and swimming in the nearby river with my siblings. Rachel has called Nebraska home for the past 11 years and has loved raising her family in the Midwest. Rachel has known that she wanted to be a teacher since she was six years old. Her first-grade teacher was warm, caring, kind, creative, and imaginative, and she ignited a love of learning inside of her. Rachel decided she wanted to teach just like her when she grew up. In college, Rachel began studying to become an elementary school teacher. As a college student, she loved working as a reading tutor and helping children who were struggling with reading. After becoming a mom, Rachel felt that the Lord was calling her to homeschool her children. She spent 18 years as a home educator teaching her 3 children in grades preschool through 12th grade and taught crocheting and American Sign Language at a local homeschool co-op. Rachel enjoys sharing her love of Jesus and serving in her church, teaching children's classes, vacation bible school, and assisting in the Pathfinder club. When Rachel is not teaching, she likes spending time with her family and friends, walking, reading, sewing, crocheting, and arts and crafts.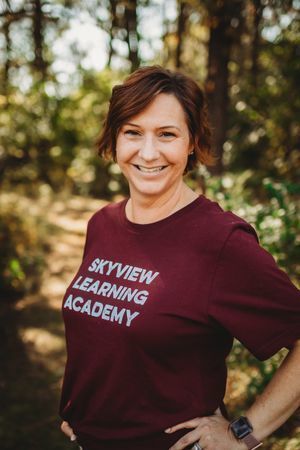 Miss Shannon has been in the education field since 1996 and has gained years of teaching experience at LPS and College View Academy. In her time off, she enjoys upcycling 'treasures' she finds on the roadside, Pinteresting, cooking, and being with her tribe.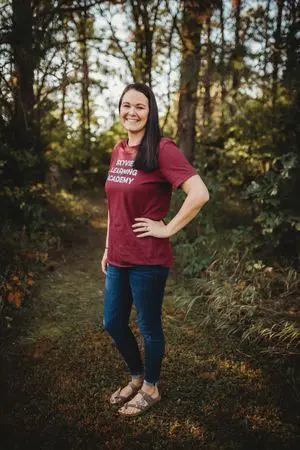 Miss Serena grew up on a small farm in rural Nebraska, where she quickly realized her love for all things agriculture and animals. She followed her passion and got a degree in Animal Science and Equine Management. After college, Miss Serena found her second passion in life when she and her husband started their family. Teaching at Skyview has been the perfect way to combine her love of agriculture and children. Miss Serena enjoys spending time on her small acreage with her husband and soon-to-be four children, taking care of her chickens, horses, and dogs, and watching college football and basketball.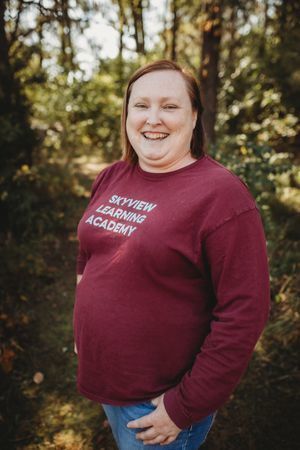 Ms. Heather has lived in Nebraska her entire life. She lives with her husband and two children in the home she grew up in. After the birth of her daughter, Ms. Heather felt called to return to college to become a teacher. She began her teaching career working with a speech-language pathologist to help students with language difficulties. She then moved into teaching students with behavior disorders. The two years prior to coming to Skyview, she spent teaching 4th and 5th grade English Language Arts. Ms. Heather loves to spend time with her family, bake, garden, read, and teach her dogs new tricks.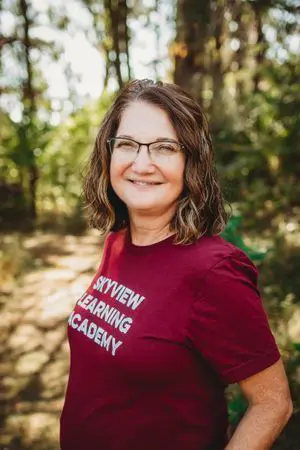 Miss Linda has 20 years of teaching experience, including 7 years of home-schooling, with 13 years of teaching grades 5 - 8. She is creative, a hard worker, and has high expectations of her students. She loves sports, especially football, and has coached basketball. Linda uses this passion for providing P.E. for our older students, and there is a competition to see if her students can achieve a better layup than her. She has 5 of her own children and is now a blended family of 9. Linda also has 4 grandchildren, with 2 more on the way, whom she likes to go visit in M.N. Her husband, Ted, has lived in Lincoln for 35 years and works in real estate.
aubrey@skyvieweducation.org
Miss Aubrey grew up in Lincoln, NE, where she received her bachelor's degree in Elementary Education from Union College in 2013. After college, Aubrey moved to Wichita, KS, where she got her first full-time teaching position. It was there she fell in love with the math and science teacher; they were married just three years later. After several years of teaching in Wichita, KS, Miss Aubrey, and her husband decided it was time to move back to Lincoln, NE, to be closer to family, friends, and her hometown church. In her free time, Aubrey enjoys many hobbies, including traveling the world with her husband, playing board games, collecting houseplants, cuddling with her puppy, reading, taking pictures, scrapbooking, and doing crazy fun adrenalin-rushing things like skydiving!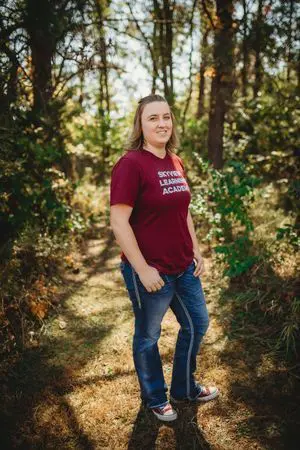 Assistant Director
Taylor has worn several different hats in her past seven years with Skyview. Taylor joined us when preschool was the only position open on the then 3-teacher team, and has enjoyed being a part of the development of the school since. For the past 4 years, Taylor has served as Skyview's Assistant Director and lead high school teacher - helping lead our school as well as teaching her students to lead the way into a future focused on Jesus.
As Assistant Director, Taylor specializes in logistics, and if she doesn't know the answer - she is going to do her best to track it down for you. Taylor is also one of the keepers of the school cell phone, and in the summer, she can be found directing the Skyview summer camp program.
God blessed Taylor with a mathematical mind, so she spends most of her days teaching high school math - but her favorite classes to teach are anything related to the Science of Health/Medicine. One of Taylor's proudest projects was creating a Hospital-themed classroom transformation as a review for her students that focused on making high school math applicable to real life.
Throughout Taylor's years at Skyview, her favorite memories include fostering baby raccoons, helping with the logistics for past school expansions, and implementing her classroom's tradition of family-style class brunches.
In her personal time, Taylor enjoys being in nature, reading and baking the day away, as well as spending time with her family.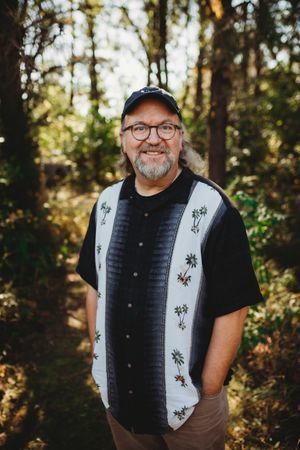 Bible Classes and Music
Originally from California, Mike Mennard is a Pastor at the New Creation Community Church in Lincoln, and he loves teaching Bible and music at Skyview. He and his wife Michelle have been married for 33 years. For 14 years, Mike was a professor of English at Union College in Lincoln. Along with teaching, he has produced 15 albums for kids and was named "Admiral of the Navy of the Great State of Nebraska" by Dave Heinemann for his project, "We've Got it All in Nebraska," a humorous collection of songs of poems to teach the history of Nebraska. His albums received numerous awards, including the Parents Choice Award. In 2019, Mike felt the calling to return to pastoral ministry, and he's so glad he did. But he still loves singing silly kids' songs and talking about English Literature.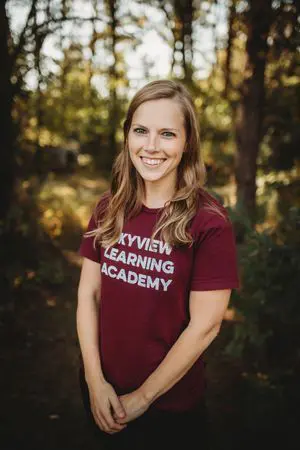 Office Manager
Jackie graduated with her degree in Elementary Education from Concordia University. She married her husband, Anthony, and taught Kindergarten in Kansas until they moved back home to Nebraska. Jackie enjoys going on adventures, spending time with her husband and two children, gardening, and taking road trips.